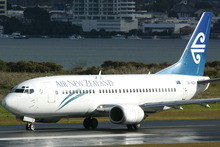 EXPAND – Source NZHERALD
Air New Zealand Boeing 737, similar to that which had a mid-air incident on the way to Auckland this morning.
An investigation is underway into why an Air New Zealand flight from Wellington to Auckland lost cabin pressure this morning, causing emergency oxygen masks to deploy.
Auckland airport emergency services were put on stand-by as the plane came in to land.
The Transport Accident Investigation Commission is now investigating why the Air New Zealand Boeing 737-300 aircraft cabin suddenly depressurised.
The Commission's Chief Investigator of Accidents Captain Tim Burfoot says a two person team is on its way to Auckland to begin the inquiry.
Air New Zealand flight 414 left Wellington at 7.30am when it experienced a gradual loss of cabin pressure on approach to Auckland which caused the oxygen masks to automatically deploy in the cabin.
"The pilots immediately initiated a descent to 7,000 feet and the cabin crew advised passengers that oxygen masks were no longer required at that point," Air New Zealand Chief Flight Operations and Safety Officer Captain David Morgan said.
"The aircraft landed without further incident and engineers are now investigating the cause of the incident."
MP Claudette Hauiti was on the flight, and tweeted that passengers were calm, but that her oxygen mask failed to drop.
Air New Zealand is yet to respond to queries on whether some masks failed to deploy.
Olympic triathlete Hamish Carter, who was on the flight, said the experience was "a bit of a shock".
"It was relatively scary for a while, not something you'd expect to happen."
"There was no panic or anything, it's just that doesn't usually happen."
Mr Carter said he noticed a definite change in cabin pressure when the oxygen masks dropped.
His ears popped, but there was no sudden change in altitude.
"I definitely felt something was a bit odd."
Passenger Codey Jervis said oxygen masks dropped when the flight was about 20 minutes away from Auckland.
Mr Jervis, a Wellington marketing assistant, said there were no sudden changes in cabin pressure or loss of altitude.
"The staff kept us informed the whole time, they were really good," he said.
"Some passengers of course were distressed but everybody remained calm and it wasn't too bad."
Mr Jervis said he was not alarmed when the masks dropped.
"It was annoying, it got in the way of me reading the newspaper," he said.
"I think some people just found it unnerving. There was no one [who] got out of their seats, there wasn't chaos or panic but I think some people just deal with things like that in different ways."
Once the plane had descended to a lower altitude passengers were told to remove oxygen masks and the flight "flew as normal", he said.
He said there was "a little bit of clapping" once the plane landed safely in Auckland.
A spokeswoman for Wellington Airport said the drama was an issue for Air New Zealand and would not comment further.
Auckland Airport confirmed it was put on "local standby" with its emergency services attending the aircraft once it landed.
Air New Zealand has 11 Boeing 737-300s in its fleet and on average they are more than 15 years old.
The planes are progressively being phased out and replaced by new Airbus A320 planes which are bigger and more fuel efficient.